Sanitary District No.6 will resume regular schedule collections for both sanitation and recycling starting Tuesday May 26th. Please have all collections curbside prior to 6:30am. Thank you for your patience and cooperation during these challenging times.
Garbage Collection
Information about Garbage, Refuse, and Yard Waste Collection
*click here*
Recycling Program
So what can you recycle? Find out the Do's and Don'ts of Recycling
*click here*
Special Pickups
Do you have over sized or heavy items? Electronics? You may need a "Special Pickup"
*click here*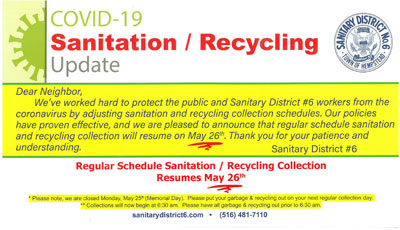 Thank You's From The Community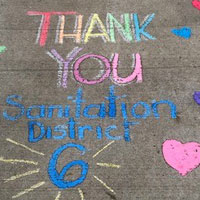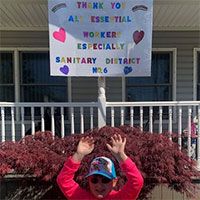 Sanitary District No. 6 was established by Chapter 516 of the New York Laws of 1928.


The general and legal authority for it to operate is contained in the Civil Divisions Act, Section 202. Geographically the District encompasses the hamlets of West Hempstead, Lakeview, Garden City South, Malverne Park, Franklin Square, Elmont, North Valley Stream, South Floral Park.


We are the largest Special District in New York State